Tools window
Most important part of Serious Modeler is Tools window accessed by pressing Q shortcut (Figure 12). It consists of 8 tabs all representing different settings appliable to model (variing from surface properties to tweaking geometry).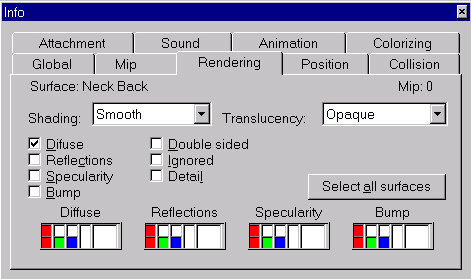 Figure 12


First lets take look at GLOBAL tab (Figure 12a). It gives some general informations about loaded model like size of curent texture (you can have unlimited number of textures on model) and its name (Difuse line), quality mode that model is created in (High Quality line), global rendering options etc. Its usefull for general revision of model.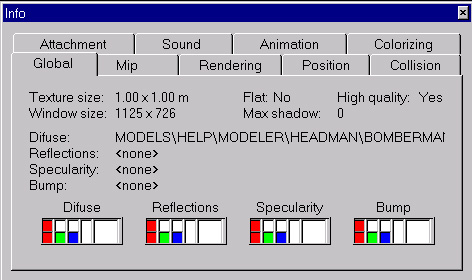 Figure 12a


RENDERING tab (Figure 12) allows you to change rendering properties of single or multiply surface (material) on model. Surface(material) represents group of polygons sharing same informations like type of rendering, color, etc. For instance if you want Boots on Headman to be red (changing DIFFUSE) cycle with TAB (shift TAB cycles backwards) button thru all materials on model (Surface name will change in Rendering tab) until Boot Sides surface shows. Now you can change its color by pressing color picker under Diffuse name ( Figure13) and select red color. More interactive way is to change HSV values (Figure13) by clicking LMB above one of 3 boxes and moving mouse left right to see color updates on model in realtime.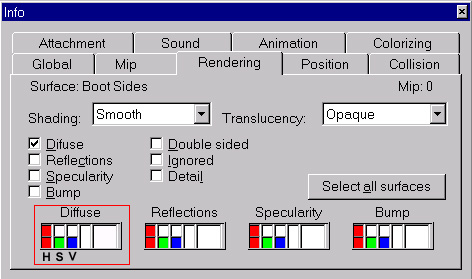 Figure 13


After adjusting color press RMB in color box and copy its value in buffer for using it on other surfaces (Figure 14).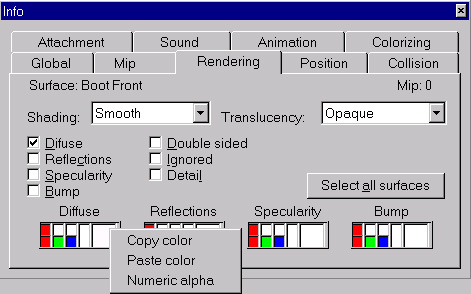 Figure 14


Since Headman boots are mapped from 3 sufraces press TAB again to select next surface (Boot Front in this case), press RMB in color box and color you copied from previous surface paste on curent (Figure15).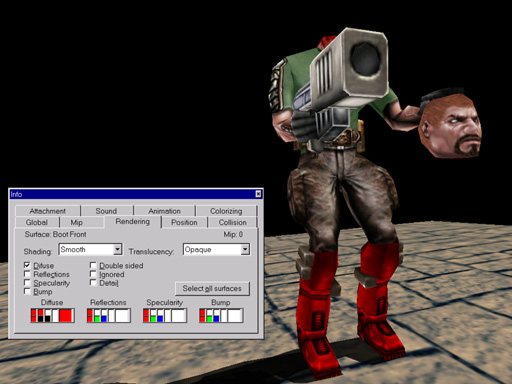 Figure 15


Repeat this for next suface (Boot back). In this case you could save time by multiple surfaces editing,selected by Z shortcut or Link Surfaces icon.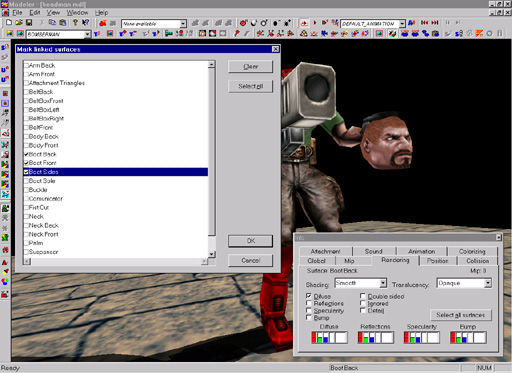 Figure 16


After Link Surfaces menu opens click on checkbox left from surface names to select or deselect desired surfaces (Figure16) or hold LMB and drag mouse down to multiple select surfaces and press OK button. In Rendering tab surface name changes to number how many surfaces you have selected (Figure 17).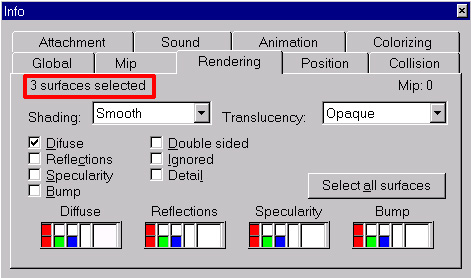 Figure 17


Now you can adjust options (in this case diffuse color) on more then one surface in same fashion as on one. Click with RMB on color box and select paste color to change all Boots surfaces color to red (Figure 18).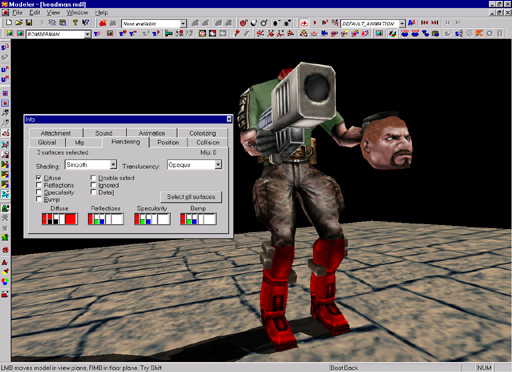 Figure 18


If you want to manipulate all surfaces in same time click on SELECT ALL SURFACES button in Rendering tab (Figure 12) and adjust parameters on all surfaces in realtime. Other rendering options (like reflections, specular etc...), shading parameteres and texture blending will be covered later.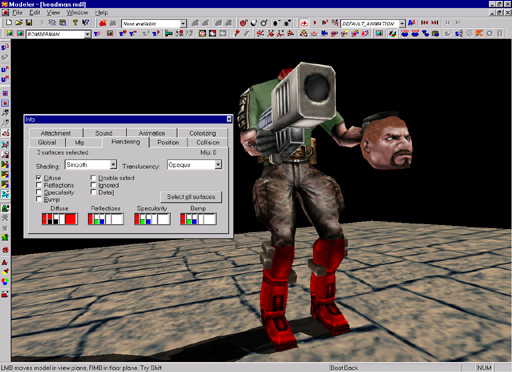 Figure 18